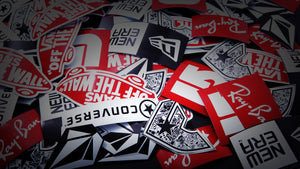 Do you want to print your own stickers, decals, signs or emblems that make your brand stand out from the crowd? Product labels that makes an impression on your customers has been our great passion since 1974.
You will find our products on everything from safes to paint protection on supercars. Regardless of the area of use, we know which product label best highlights your unique message and profile. With our help, you get stickers that attach both physically and in the viewer's mind.

We bring your idea to life
Printing your own stickers has never been easier. From loose idea to finished product - Stalama AB helps you all the way.
Making YOUR BRAND visible
Stalama is equal to quality in all stages of the productionprocess - material selection, service and manufacturing. No order is too difficult, we tailor the end product exactly the way you want it.
What do our customers say?
★★★★★

We have chosen to work with Stalama as they are a guarantee for high quality parts with constant and secure delivery times.

Anders Lynge

Co-founder, Garia A/S
★★★★★

Stalama AB has delivered millions of domelabels anually to Brodit over the years. For us, Stalama stands for quality, knowledge and customer focus. And we are always greeted with a smile!

Heidi Eskonniemi

Brodit AB
★★★★★

Swefog has used Stalama AB as a supplier since 2006. Stalama is personal and shows great interest in finding solutions to our problems. Deliveries are handled on time and their emblems are of high quality, just like our own products.

Johan Sundström

CEO Swefog Technology Group AB
★★★★★

Stalama AB are reliable and very professional. The products delivered are of very high quality.

Claes Edfeldt

CEO Drop Off Nordic AB
★★★★★

Fast and smooth deliveries and very good help when needed. Great!

Mikael Carlborg

Technical Sales, Termoventiler AB
★★★★★

Transportcenter Stockholm AB orders all decals and domelabels from Stalama. Fast and professional handling, the quality is very high and really affordable. Do as we do!

Stefan Pettersson

Sales Manager
★★★★★

We have now for many years hired Stalama for production and help with the production of our decals and we see them as one of our better suppliers when it comes to delivery security and quality. Is there ever a time that we have needed the products a little faster, they are always very accommodating and really try to make an effort to be able to deliver as quickly as possible.

Tord Magnusson

Artfex
★★★★★

Always nice to deal with Stalama - they have a personal and careful touch and delivers on time. We can really recommend Stalama!

Anders Påhlsson

Topofmind Reklambyrå
★★★★★

Very responsive and good at recommending materials and manufacturing methods. Fast on samples and prototypes with a professional look.

Tomas Johansson

Swepac AB, Engineering Manager
Locally produced quality from Dalarna
The family business that once started almost 50 years ago with the development of motorcycle accessories has today grown into one of Sweden's leading suppliers of product labels. Experience that makes us your natural partner for all prints of your own stickers, decals, signs and emblems.
But we are faithful to our roots. Production is still in Dalarna. Here we manufacture sustainable products for many of the worlds leading brands. In fact, we produce millions of product labels every year for large and small companies. Customers appreciate our high level of ambition in terms of product quality, fast-paced delivery, flexible support and the benefits of ordering locally produced products.
• Made in Sweden
• Always the highest quality
• Fast deliveries
• Sustainable and environmentally friendly products
• The only manufacturer of EcoDomes and TexFlex in the Nordic region
About us

Follow in the footsteps of over 1000 satisfied customers